OVERVIEW
About Total Knee Replacement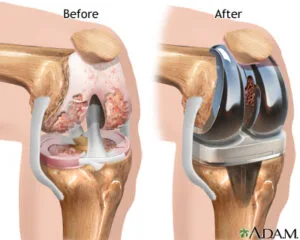 Joint replacements are becoming more common. Hips and knees are most frequently replaced joints. In 2006, there were 542,000 total knee and 231,000 total hip replacements.
Protheses, also known as a new joint, are made from plastic, metal or both. The prosthesis can be cemented or left uncemented. A prosthesis that is not cemented is made so that bones can grow into it.
The first total knee replacements were made in the 1950s. They did not mimic the natural movement of the knee. These procedures were notorious for high failure rates and complications. The design and fitting of knee implants has improved with the advent of total knee replacement technology over the past 10 to15 years.
When x-rays or other tests reveal joint damage, total knee replacement may be the best option. This is when persistent, moderate-to-severe pain doesn't improve with nonsurgical treatment and when their knee joint has a limited range of motion that affects their quality life.
Patients between 60-75 years old were the most suitable candidates for total knee replacement in the past. In the last two decades, this age range has expanded to include patients over 75 who are more likely to have health problems and patients under 60 who are more active and will likely be subject to greater mechanical stress.
Around 90% of patients experience a rapid and significant reduction in pain and feel better overall. They also have improved joint function. While most total knee replacements are successful, there is always the possibility of failure and a revision may be necessary. You are at greater risk if you are younger than 55, if you're male, if your health is poor, or a person with osteoarthritis, an infection, or any other illness.
Physical Therapy Pre and Post Surgery
You should consult a physical therapist before and after a knee replacement.
Physical therapy has been proven to be effective in treating arthritis. A physical therapist-directed program could help you delay or even avoid knee replacement.

It is proven that a pre-surgical visit to a physical therapist and completing a "prehab program" (a series of rehabilitative exercises) can increase strength and speed up the recovery process.

It is essential to provide post-surgical physical therapy for patients with knee replacements.

 

Most knee replacement patients feel a reduction in pain. However, most patients with knee replacements experience significant muscle weakness, loss or limitation of movement, and limited function.

 

After surgery, a physical therapist can help you to improve your strength and mobility as well as your function.
Call us to find out how we can assist you.